Traveling, new cultures and skylines are the aim of travel. The business of people and the new sights, sounds and even smells of new countries. I want to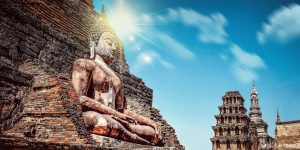 travel and explore, a small alcove is so peaceful, without a care in the world for a few hours, absolute paradise. Koh Phangan is a 10 miles diameter island and I see farmers gathering coconuts and local fishermen going about their day at their own pace. My hotel is very interesting looking, called the U Khao Yai, it has a classic hotel appearence, except with Thailand shrubs and surrounding pretty countryside.
The evening I meet some friends at the Valentino restaurant, it has very fresh seafood caught that day and Italian flavour, with a vibrant atmosphere and the owner is far too generous with all the wine! I learn that this area featured heavily in the novel The Beach, by Alex Garland and even Ace of Base has written a song about the views from this island. It looks like I have chosen right for once. I'll be returning home soon and can't wait to tell you even more and show you some photos and my golden tan. In some ways.